Company Outings
In addition to the spectacular water attractions, Wet 'n' Wild SplashTown is one of the largest providers of company picnics and catered outings in the Houston area. Groups of 75 or more can enjoy a private picnic together in our ranch style catering facility, just steps away from thrilling rides.
Wet 'n' Wild SplashTown's staff provides a fully catered, all-you-can-eat buffet style meal. We handle all the details of the picnic from set up to clean up. You will be provided with promotional material to make your event a success. In addition you will have access to a PA system, an Outing Games Coordinator and a welcoming sign of your organization. Orders can be taken over the phone prior to your visit by calling 281.355.3300 ext. 113.
TESTIMONIAL: "We as a company have a great time I highly recommend it."
Schlumberger Rent the Park For any inquiries please contact our Group Sales Department @ 281.355.3300. We will be happy to customize an exclusive, fun-filled day for your group.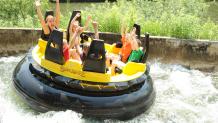 Bring your group to our park with pre-paid tickets or arrange a private catered outing.
Sign Up Now
To receive discount and info about packages just for groups of 15+