SFMM Grad Nite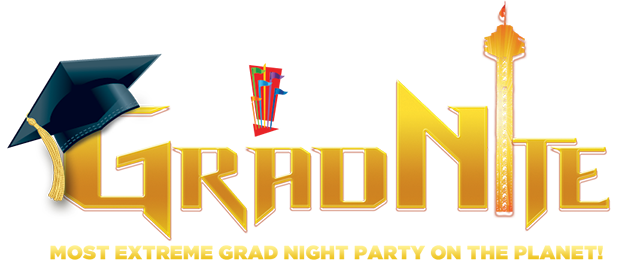 Six Flags Magic Mountain Grad Nite, sponsored by Takis®, has more to offer your seniors than any other Southern California Grad Nite destination. Exclusively for graduating high school seniors, experience our world class coasters, multiple high energy dance areas, DJs, and more! Play and party all night long in a safe and controlled environment. Nobody gives you more thrills or better value!
May 16, 23, 24, 30 & June 6, 2019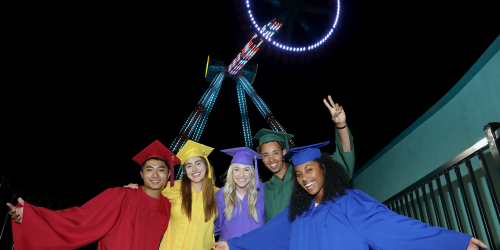 All students will receive a Season Pass that provides over 180 return visits to Six Flags Magic Mountain in 2019! *Blackout dates in October apply.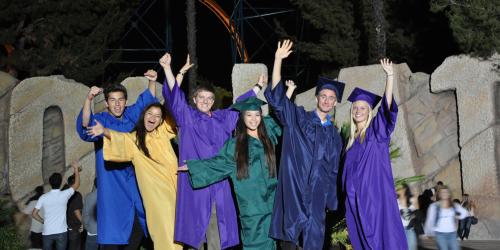 The park is open exclusively to seniors and chaperones - not open to the public. No student in & out privileges. Only buses and chaperone driven vehicles allowed.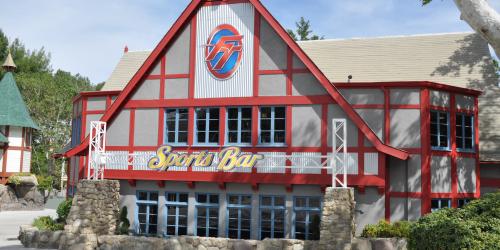 Exclusive Chaperone Area with Complimentary Buffet
Six Flags offers an exclusive chaperone hospitality area at an indoor restaurant with an all-you-can-eat dinner buffet and much more!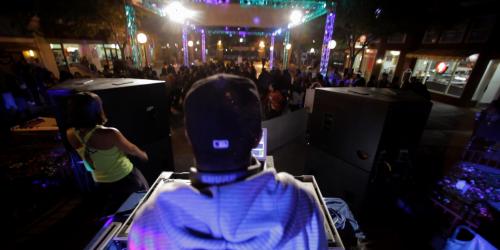 Live DJs and Multiple Dance Areas
Play and party all night long with high energy dance areas featuring live DJs playing all of the hottest hits from your favorite stations.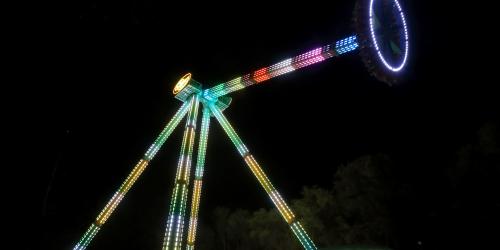 Only at the Thrill Capital of the World can you experience the most extreme coasters and an adrenaline-pumping all night party!
We've compiled some of our most frequently asked questions about Grad Nite below for your convenience.
Grad-Nite
Is Grad-Nite a general public mix-in event?
No. Grad-Nite is not open to the public. It's a private event held exclusively for graduates and chaperones. You must have a Grad-Nite ticket to attend. Sorry -- Season Passes are not accepted for Grad-Nite.
Is there a dress code for Grad-Nite?
Yes. All schools must adhere to their school's dress code policies and must meet, at minimum, Six Flags Magic Mountain's standard park dress code. More information can be found in our Grad-Nite Information Packet.
What are the Grad-Nite park hours?
Grad Nite starts at 11:00pm and ends at 5:00am. We have an early admission dinner/dance package available that begins at 9:00pm.
Both packages include a 2019 Grad Pass and a Grad-Nite glow souvenir.
Is the entire park open on Grad-Nite?
Water Rides and Bugs Bunny World (children's area) are not open for Grad-Nite. All our other thrilling rides & coasters are open!
What if I don't like roller coasters? Are there other things to do?
There is no shortage of fun during Grad-Nite! We have several DJ-hosted dance areas plus interactive games and activities around the park to keep you busy.
Will you come to my school and present Grad-Nite to our students?
Absolutely! We'd love to bring a little Six Flags to your school and show how much fun Grad Nite really is! Please call (661) 255-4806 for more information and to schedule a visit with one of our Grad Nite Representatives. Please note -- we've tried but we simply can't bring Twisted Colossus with us!
Register Now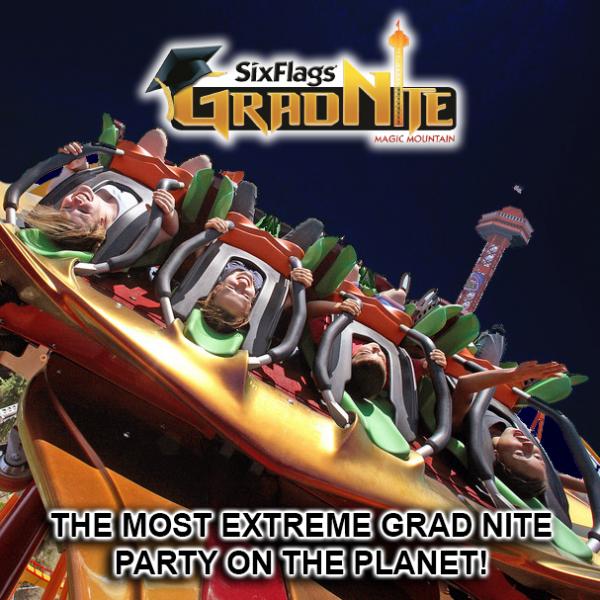 Party all night and for all of 2019 with a Grad Pass!*
Space is limited, so sign up today to reserve your date. Packages available for groups of 10 or more. Note, registration does not guarantee attendance, confirmation from a Six Flags Rep is required.
For package and pricing information, please contact Group Sales at [email protected] or 661-255-4806, Monday-Friday 8:30am-5:00pm. *Date restrictions apply
For park policies, dress code, and other event information, please download the packet below.